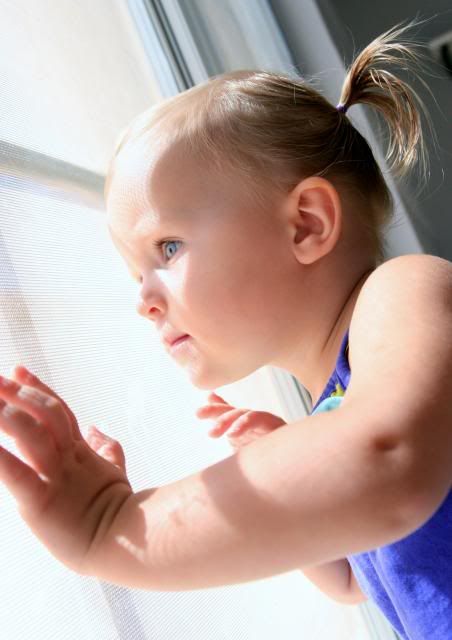 so i received the sweetest email from my mother-in-law (hi jan!) a couple weeks ago telling me how happy she is that i've revived the old blog - since she and my father-in-law are serving a mission and missing their lil grandkids and all, not to mention the fact that the mission has made her all computer savvy and she's a faithful blog-checker now :) so i was so happy to know that someone reads our blog and all motivated to blog daily - woo hoo!
but then i went out of town for a week and totally shirked my duties - you know how it goes...
anywho, she also mentioned that she was hoping to see pictures of kennedy in her little piggies
and as i am a big believer in the old adage to always obey your mother-in-law (i'm lucky - i have a great one!)
behold kennedy in piggy tails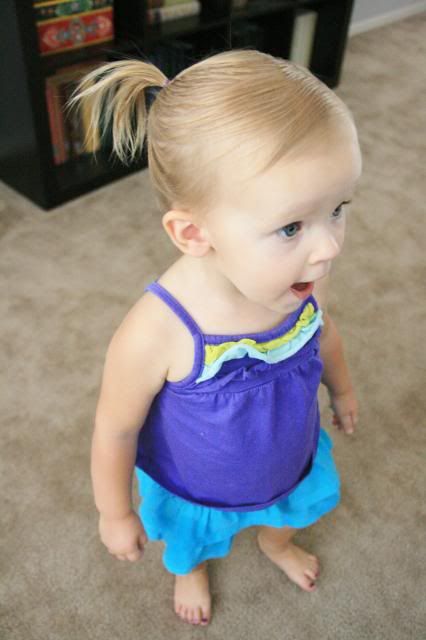 i also spent the entire month of june reminding myself on a daily basis that kennedy was 18 months old
and in need of an 18 month old photo shoot
but did that happen?
not so much

so here she is - five days shy of 19 months, which counts, right?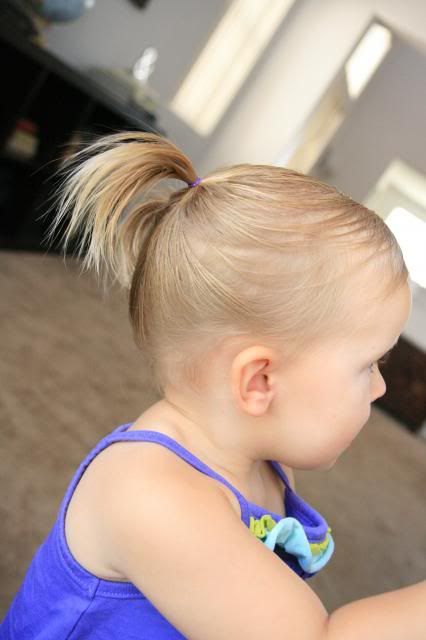 it's no secret - since i tend to shout it from the rooftops on a semi-regular basis - that kennedy = angel baby
she's like easy peasy, go with the flow and a blessing straight from heaven
since heaven knows - literally - that i couldn't handle anything else
the smooshy, gooshy, cheesy, weezy truth of the situation is that she's a tender mercy in my life
and i thank my lucky stars everyday for her
please don't think this is braggy brag - because it's actually just pure golden gratitude
and i've got plenty of humbling ups and downs going on in my mothering career these days so no need for braggy brag here
in fact - it should also be recorded here and declared to all the world
that at the exact moment i was typing the above sentence about all this angel baby hooplah
kennedy was in fact in the kitchen dumping her entire bowl of cereal on the floor
which shows that 1) even the angels in our family are quite human
and 2) i fed my children cereal for lunch
no shame
just honesty
(excuse me while i go referee a raging dispute between the boys about who just made kennedy cry)
verdict: "No One" did it
No One is always causing trouble in our household
ok back to business
miss wiggle mostly only agrees to getting her hair done if she's sitting in the sink
making messes and drowning q-tips

which is a small price to pay



and these purple little piggies must grace the bliggity blog as well



eighteen months old is my favorite age - pure magic!
everything is fun and hilarious except for ocassional bowl of dumped cereal
as well as the seeds of true toddler tantruming that give a glimpse into the much anticipated (and dreaded) future
but in the meantime - hazzah for 18 months!

she is a giggly, chatty little lass and is learning new word everyday
unfortunately yesterday's word was "myyyyyyyyyyy..."
as in "mine" courtesy of her big brothers
hello 19 months...



XO you sweet little girl
.ta.