~
well well well ~ it appears that the handsome hub and i have arrived at eleven years of wedded bliss
we've got some kind of hot date planed for tonight (*ahem* dinner out)
but since i'm on an all out blogging campaign
i'm blogging before our date
and with zero anniversary pictures
~
instead i'm randomly scanning through pics on the computer
and finding ones that will perfectly describe what wedded bliss looks like eleven years later
FYI - apparently eleven years of marriage means you no longer take pictures together
but rather of your offspring ~ so we'll be seeing much of those beauties here
~
this first picture pretty much sums it all up
it is from a batch of pics that i took on mother's day which really deserve a post of their own
but it's too classic not to share here too - all i really ever want for mother's day
besides to sleep in, a clean house and angel children that only love and snuggle me all day
is a picture with me kids - just like a nice, cute, all dressed in our church clothes, all smiling at the camera nice picture
that has not, and probably never will, happen

so this year while i waited for darek to get home from church so he could take a perfect picture of me with my kids
~ guffaw! ~
i tried with all my might to keep them dressed and clean
but lost the good fight to the mud hole in the backyard
(um, that's meant to become a garden someday in the very far future)
so i decided to call a truce with the mud hole and take pictures instead
this one is my favorite

boys in church clothes
kennedy in the buff
beck's new shoes
all in the mud

this is what eleven years of wedded bliss looks like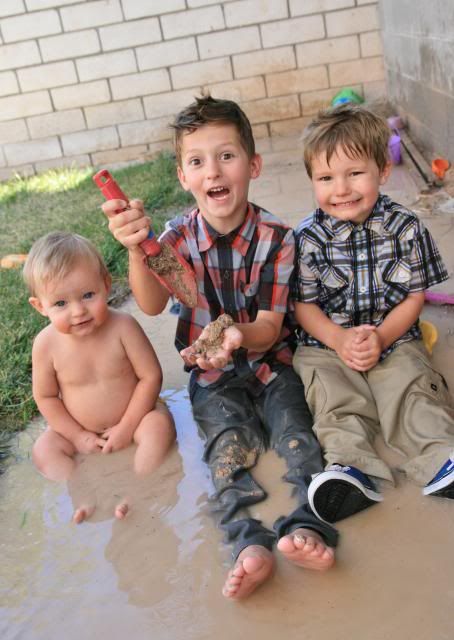 ~
i'm sure i've told this story before on the blog but darek bought and fully restored the most gorgeous
vintage schwinn for me back in the olden days when i graduated grad school at byu
he got one for himself too and we rode them everywhere
then we moved to boston and mine got stollen (because we were no longer in happy valley)
and i cried great tears of indescribable anguish
until darek bought and fully restored a second beautiful vintage bike for me
which i rode all around boston ~ and now bike riding has become a family tradtition
this is the view from my bike ~ kennedy's helmet, since she rides with me, and my three boys
~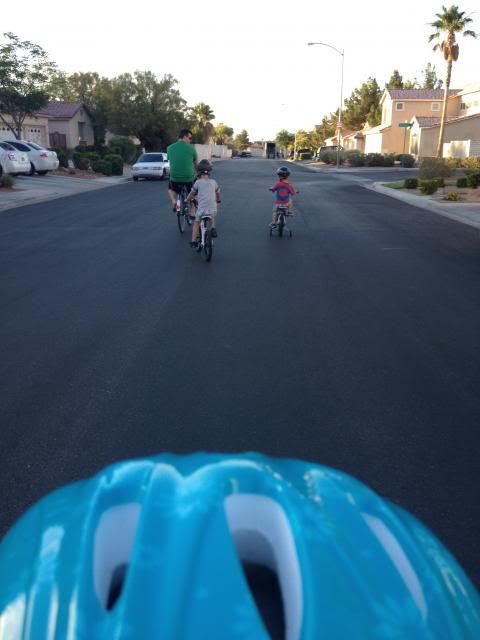 we often ride to 7-11 for slurpees
and can you even believe beck's face right here?!?!
i mean the kid is the most hilarious three year old in all the land
every time i say smile for the camera i get something like this
so much better than a smile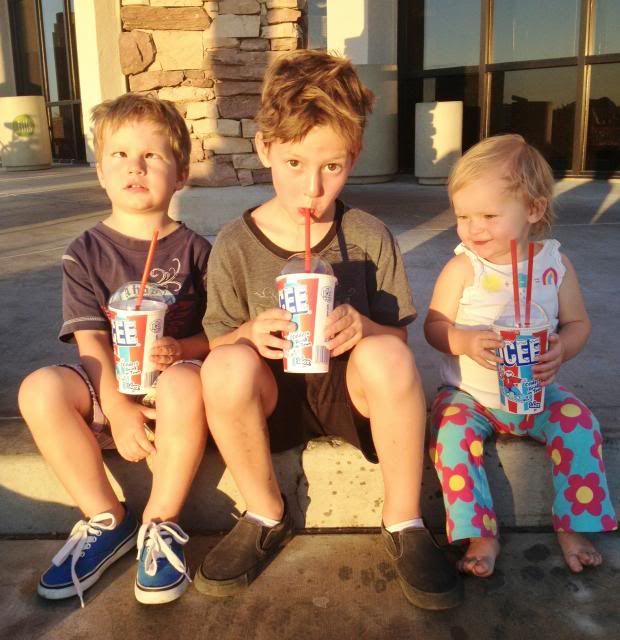 and since we're talking classic moments of the kids
this - my friends - is classic atticus
right down to the undies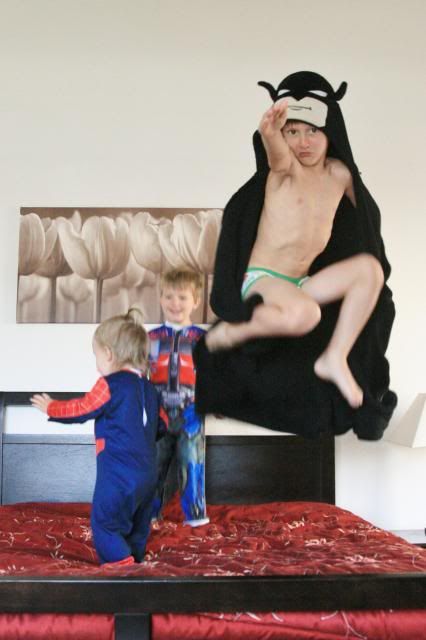 classic sweet kennedy loving on her very sweet and tender-hearted daddy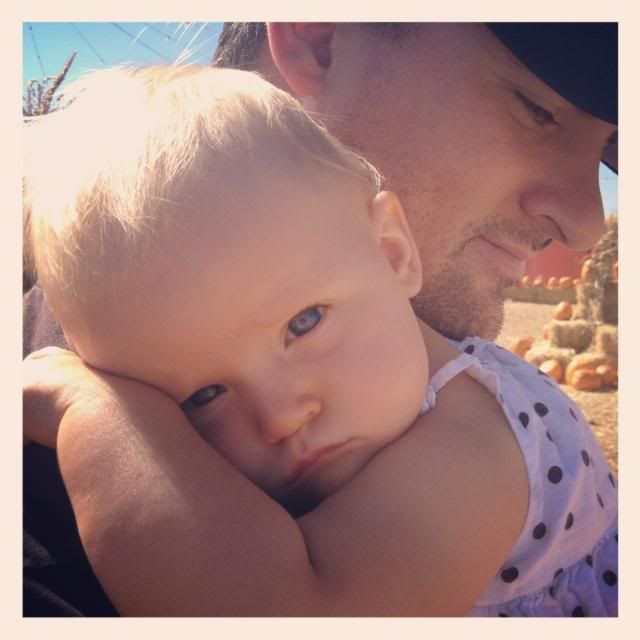 and i don't know if this picture has already been blogged
but another classic kennedy moment
the hugeset spit up in the history of spit up
caught on camera
no joke



darek has turned into super builder man since we wed eleven years ago
i mean, who knew?
anyway - he built a beautiful pergola a few months back but i was lacking photos for this impromptu post
so a little nod the the playhouse he constructed - atticus surfing down the slide
and kennedy not believing her eyes!



these three sweet little monsters sure have spiced things up since the honeymoon...



one thing i figured out within 24 hours of being married to a mccoy
they sleep
and sleep
and sleep

however, it took me several years to figure out that they also snore ~ since that lovely surprise developed over time
and in fact atticus fell asleep in my bed this afternoon during naptime
but i didn't ~ because he was snoring
like father, like son
twins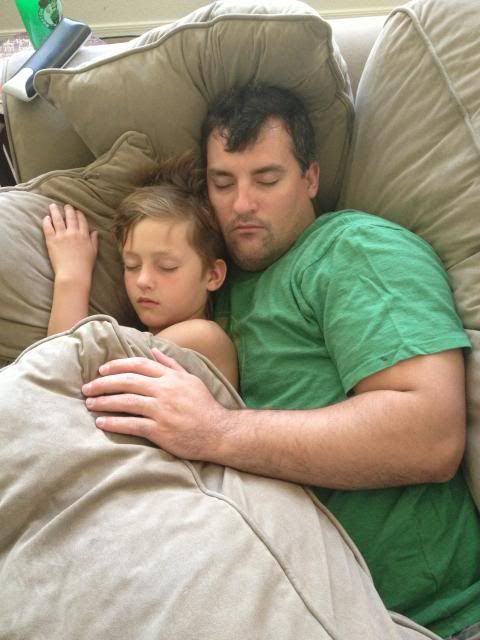 same dad
different son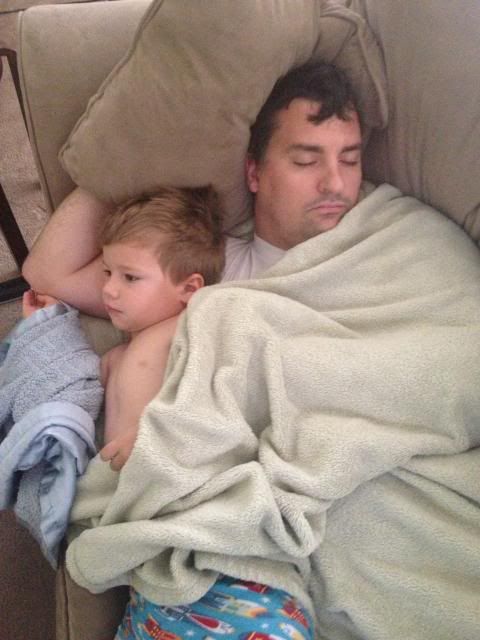 and the littlest loves of our lives
which have added so much meaning to our marriage
big brothers ~ little sister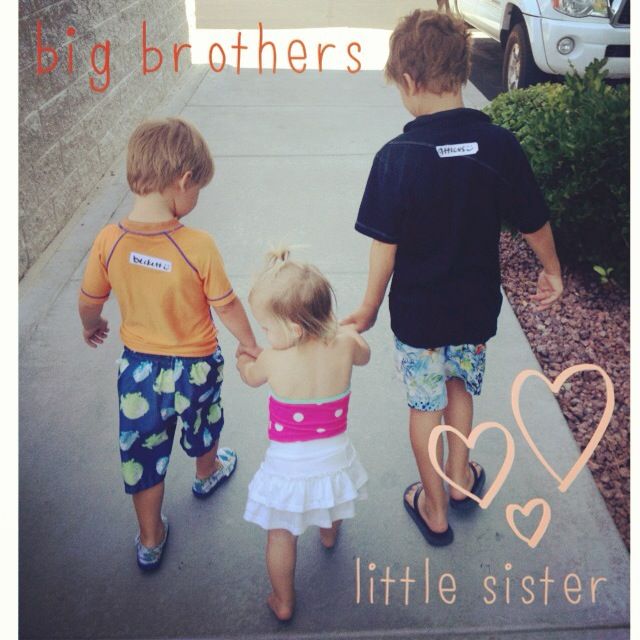 happy anniversary darek!
eleven down ~ infinity to go
.tq.