ten of my favorite thrifted finds
i've got the house decorating bug this month - sadly - i do not have the budget. blah. isn't that always the case?
so anywho, i've been moseying around my house searching for forgotten treasures or things that can be repurposed and given new life.
i have big visions for our home but alas big visions tend to take years to come to fruition. *sigh*
anyway - i happened upon several photos i had taken for another project and thought i'd share some of my favorite thrifted finds and how i came across them. i am a huge fan of thrift shopping and i love hunting for hidden treasures at yard sales, thrift stores, your closet, where ever. some of these items have been collected over time, given to me by friends who know i was searching for them, or, my personal favorite, found on the side of the road.
in any case - i love me some good vintage finds
milk glass
i bought a pair of milk glass lamps a couple years ago for beck's nursery before i realized that milk glass is kind of like all the rage.
i loved the lamps and started keeping my eye out for milk glass every time i went thrift shopping and have built up a little collection.
here are a few vases, teacups and a goblet that are on a shelf above my pantry (but the owl and teapot are just fakies.)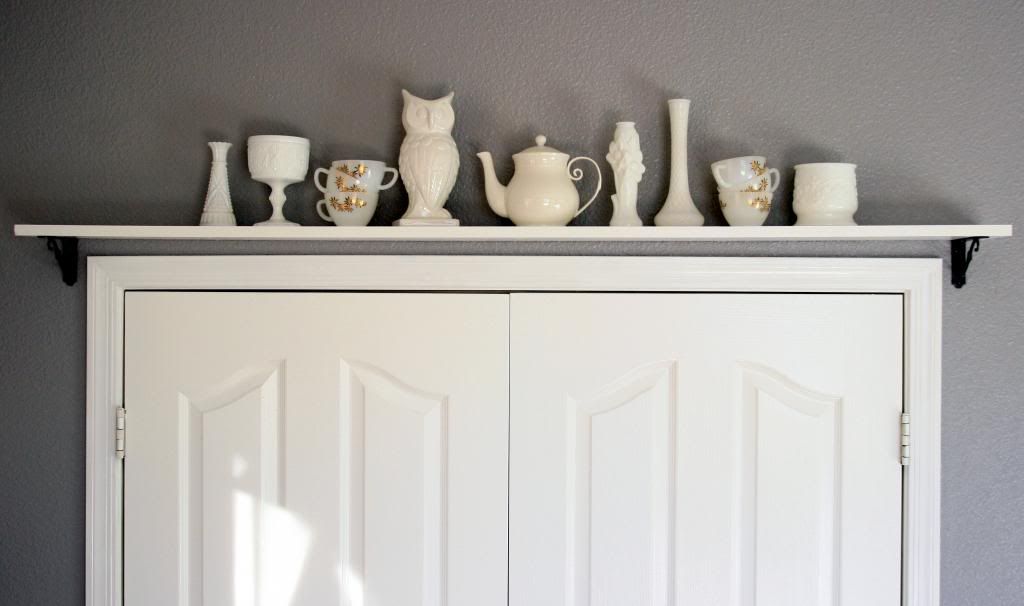 and a few more milk glass vases and a candy dish on the shelf above the cabinet and a couple in the slots above the desk.
i love when i have a reason to pull out all the milk glass to use for holiday or birthday candy, dips, treats, etc.
incidentally - i had considered buying the desk clock from ikea a while back
only to find it for $2 at a yard sale the next weekend! score!
FYI - those rooster prints can be printed for free from
The Graphics Fairy
and

also

:

people often ask, so

HERE's

the info on how we painted our cabinets/kitchen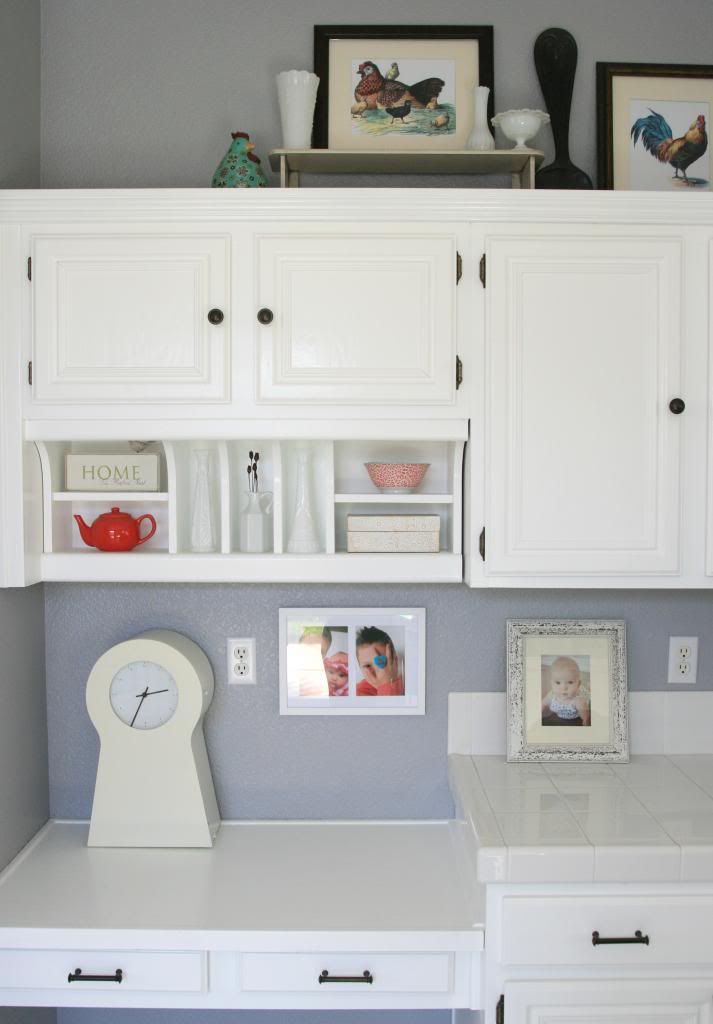 refinished desk
a couple years ago when darek and i were working on
THIS
project (which i already want to redo)
a friend mentioned that she had found a desk on the side of the road that matched the set we were refinishing
so out of the goodness of her heart, and due to her already long list of furniture-refinishing projects
she donated this to our cause - that of furnishing our house - which still has not been completed. ha!
anyway - the desk ended up not fitting in the guest room with the matching set
so it floated around our house a bit until landing here as our entry way table
hmm, sorry for the absent before pic - it appears i neglected to take one
vintage trunk
this was a sidewalk find from our cambridge days
it has a label that says its from summer storage on harvard campus
and it makes me feel real smart having it in my home
vintage typewriter
long ago in the days before computers, people typed on these crazy contraptions
i had been in the market for a great vintage typewriter for a long time when i happened upon this beauty
at a just-driving-by-and-made-a-last-second-stop yard sale here in LV about a year ago.
FYI - if you didn't already know, vegas is like yard sale capital of the world. random, but so great!
so anyway, this little gem came in a cute little suitcase-type carrying case that i spied from afar
i didn't know what i'd find inside before i opened it but you can bet i did a little jump for joy when this is what i discovered.
plus i totally low balled the kid selling it - he wanted ten, i offered five, he took it
sucker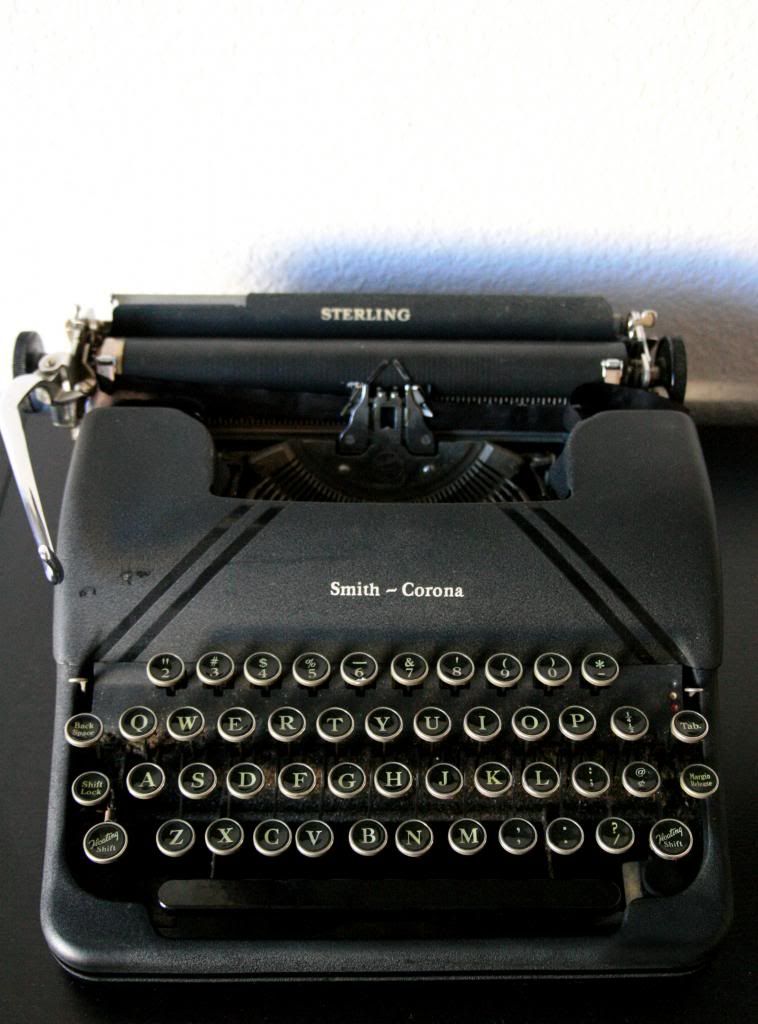 old school ring-a-ding clock
i love these. i have a few. i'm always drawn to their vintage feel.
and i totally made up the term ring-a-ding for the purposes of this post
not sure what they're really called...?
anyway, when i saw this one at savers i snatched it up without a second thought - even though it doesn't work. ha!
books, books, books
i search out vintage books every chance i get
i love finding classics, poetry and historical autobiographies
but i cannot tell a lie - if i think it's cute, i buy it, no matter what it is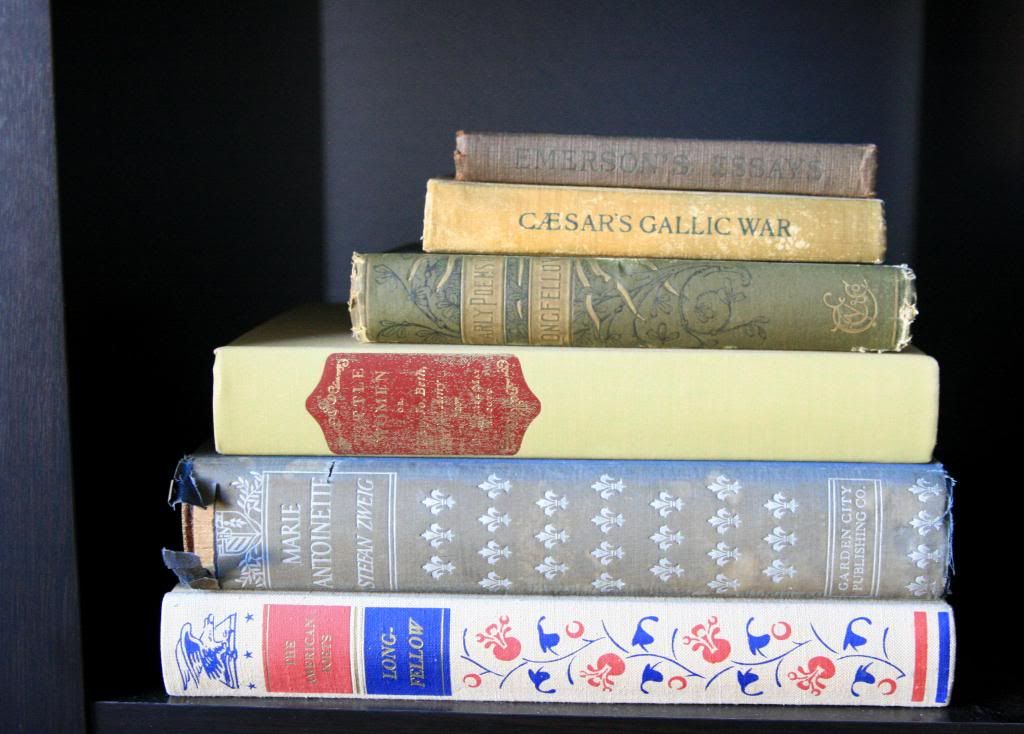 my scanti handy washboard
after years of east coast living - where laundry facilities are rarely easy access - i was pretty thrilled about buying a house with a laundry room
this little room is far from my dream laundry room but it was important to me to make it cute just the same
and
HERE
is a tutorial on the washer and dryer platform darek built me complete with two huge drawers
which are part heaven and part just hiding place for all the clean laundry i never fold
anyway - i really wanted an old school washboard for my laundry room
um perhaps to make me feel grateful for the washer and dryer that wash and dry all the laundry i never want to fold?
and one day a friend of mine showed up at my house with this little scanty handi that she'd found at a yard sale for a dollar
thanks jeannie! perfect finishing touch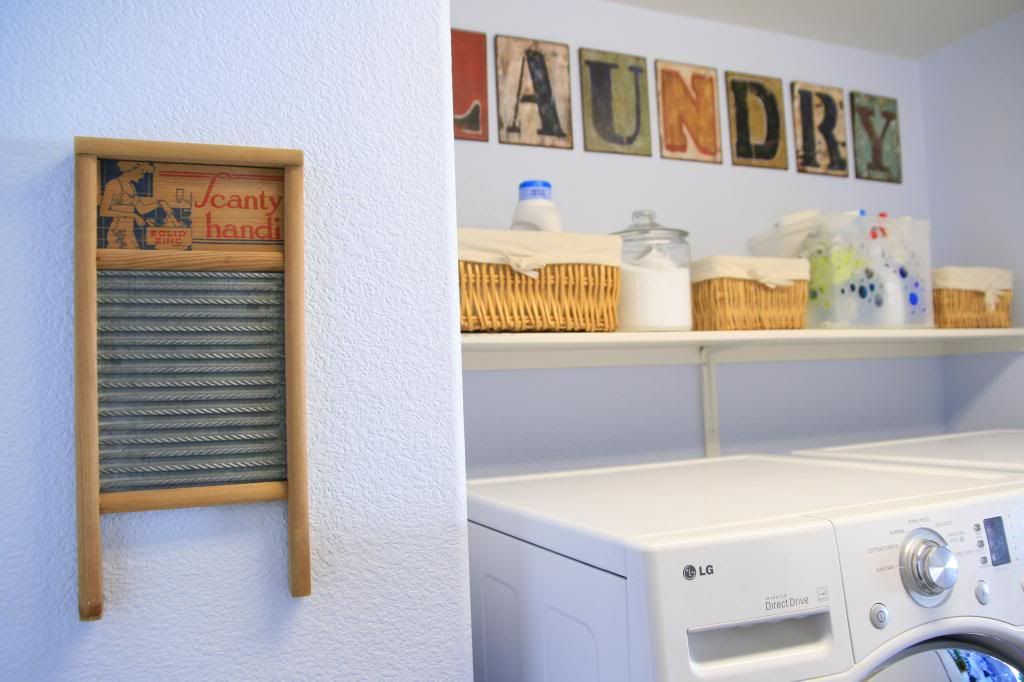 copper teapot
i'm such a teapot girl. i have many. all over. and really only one that i actually use to boil water
anyway - this copper teapot was a treasure found at a thrift store when we lived in cambridge
it currently resides in the cupboard - such a shame...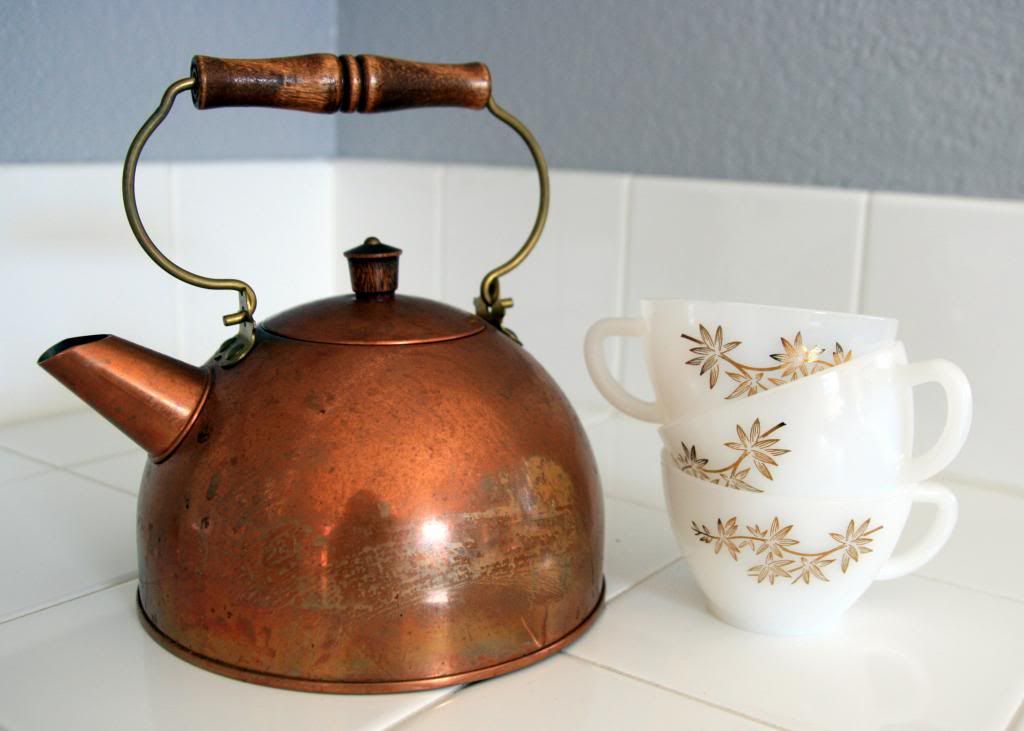 bottles and jars and bottles and jars
and lots of corks
i don't know why, but i love these. i can never resist buying them.
i use them all over my house for lots of different purposes
soap, q-tips, cotton balls, pasta, rice, salad dressing, etc
these are used in the boys' bathroom
and yes those are framed prints
from Everybody Poops
because everybody poops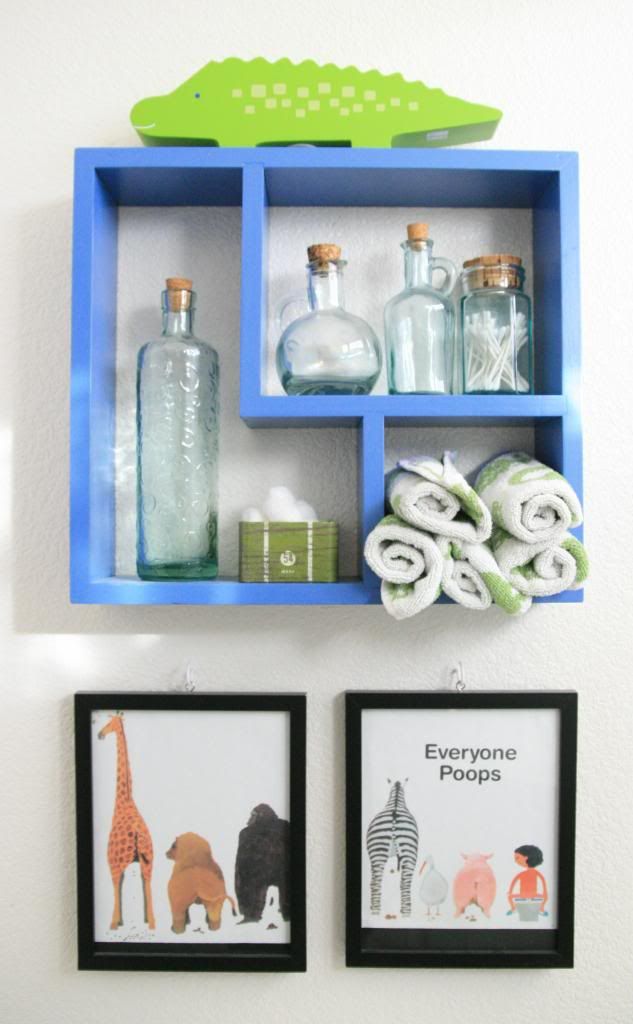 okay, and one non-home decor bonus item, because i love it
and i happen to have a picture of it
this cameo medallion
one dollar
one yard sale
one victory
ca-ching
pray tell - what are your favorite thrifts finds?
and your favorite thrifting spots?