.
trunk
.
or
.
treating
.
i gotta get these pictures up before we do the real trick-or-treating tonight
or else my blog's going to be all amuck and i just don't think i can handle that...
so, here we go
our ward trunk-or-treat was last week and i decided in my pregnant tired state
to take the easy way out - matching spiderman costumes for the boys
easy peasy and they loved themselves some super hero-ness
atticus mixed up his spidy-man with a little makeup to match his daddy

who looked like this
and was kind of creepy
so creepy in fact that although beckett would allow darek to hold him during the night
he refused to look him in that face. how hilarious is that? just kept his head down. in fact beck sort of went into "who are all of these crazy people?" mode as soon as we got to church. nary a smile to be had for anyone. only staring. he was just not sure how he felt about the whole ordeal. except for the candy. and the cornbread. those were major hits with the marshmallow.



in fact, this may have been the only smile of the night
in response to receiving candy of course. even so, he was leary about going car to car
never quit sure what he'd encounter. he slow motion walked up to each car,
until he decided that the candy was worth it and filled up his bucket.



atticus was very diligent in making sure his bucket was full by the end of the night too



the youth hosted carnival games for the little kids
here atticus had to swing his head around until he knocked down bottles of water to win a prize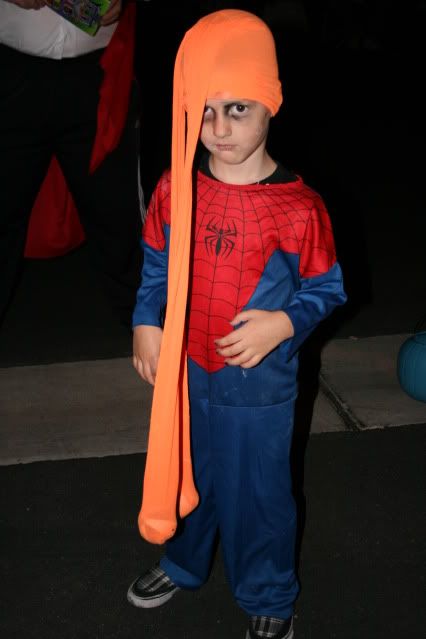 it was pretty funny


beck just looked on while chowing his treats

atticus and beck with two of their best buddies
"little" atticus
(to differentiate from my atticus. can you believe it? in a world where i thought perhaps atticus may never encounter another human soul with his name...here he is. one of his best little buddies and in our same ward!)
and his big brother grayson who is so cute and happy in this picture! these boys play together a few times a week and pretty much love each other which is the best! and please note beck's face here - undoubtedly stunned by some scary halloween something. and "big" atticus' face - just admiring the tinkerbell cards he got in his treat bucket. such satisfaction.

so remember how was had a little pumpkin carving party a few weeks ago
and how it's still real hot in here the LV
and so now our pumpkins are the nastiest, rottingest things on the block?
and how darek wanted to throw them out last night
but i reminded him it was only 12 hours until all hallow's eve
and how i made beck pose next to them even though he thought they were the grossest??

yeah that's what these pictures are:
ps - i also want to note here that while atticus chowed his trunk-or-treat candy all night beck chose an apple.
how are these spidermen related to each other, i ask you?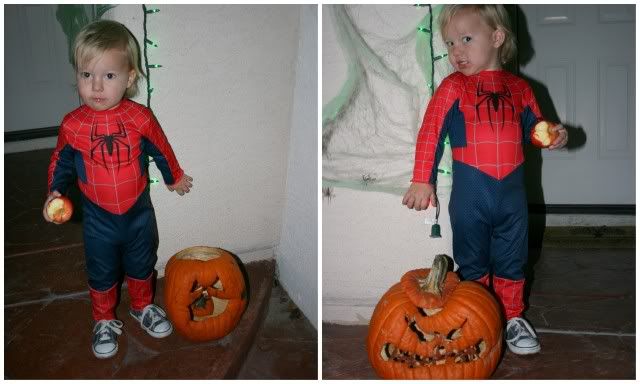 and finally
the pumpkin belly

since three out of the last five halloweens i've had me a big belly
might as well make it a tradition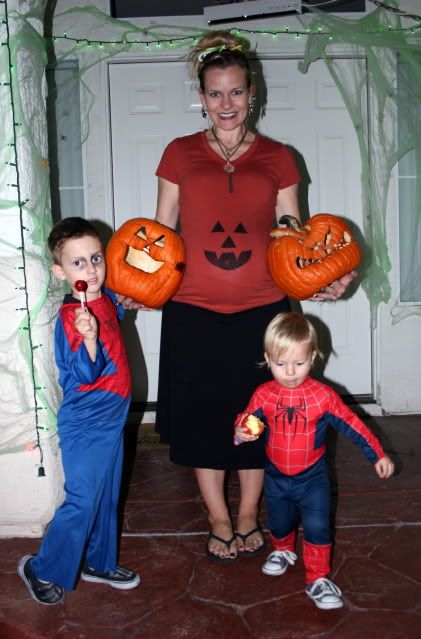 these are not my cutest pictures but alas,
the freak-of-nature belly must be documented
(34+ weeks, but i lie and tell strangers 38. ha!)

ps - those are snakes and bugs in my hair. just to halloween it up a little, ya know?
what can i say? i learned from my mother, the master...she used to have dead things crawling out of all kinds of body parts back in the day when she'd dress up. i tell you, the woman is a costume genius. far more impressive than my silly snakes and bugs which are mere child's play in comparison. maybe some day i'll post an old pic of her dead punk rocker costume circa 1985. it's a true beaut!
whattayathink, mom?
have a happy and safe halloween tonight!