announcing...
baby

GIRL

mccoy
evidence: "No Pee Pee"
i really think it's funny that that was the phrase the tech used on this picture
so atticus was right! he's been talking about his little sister long before i was even pregnant.
i finally asked him last week how he was so sure that the baby in my belly was a girl and he
explained very reasonably, "mom, you're a girl and the baby is in your girl tummy so the baby must be a girl too!"
three year old reasoning turned out to be absolutely right!
and incidentally, he says "grill" for girl and i hope he never stops.

nineteen and half weeks today
i've had a growth spurt since my last belly shot


baby girl sucking her thumb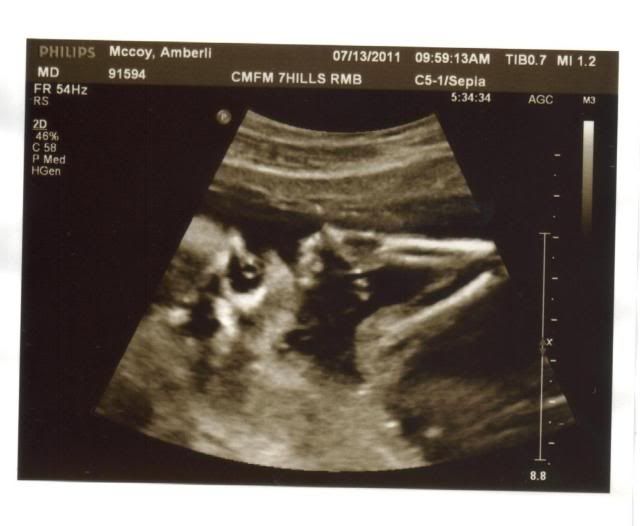 tiny hand waving hello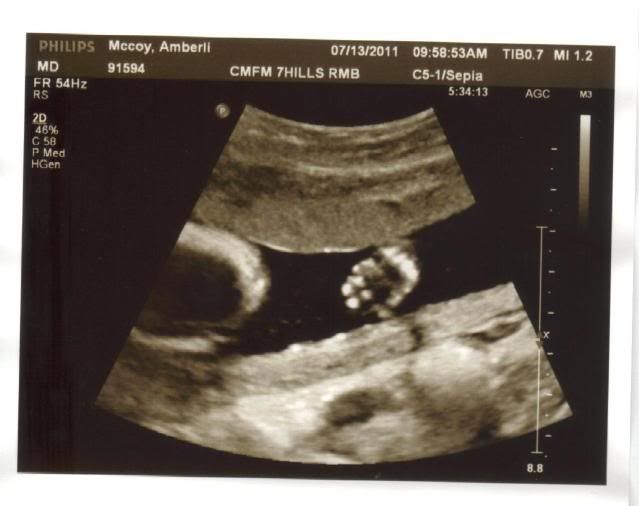 tiny feet crossed at the ankles
the little lady was quite prim and proper keeping her legs crossed almost the whole time.
the tech had to do some detective work to for sure confirm that there was in fact no pee pee.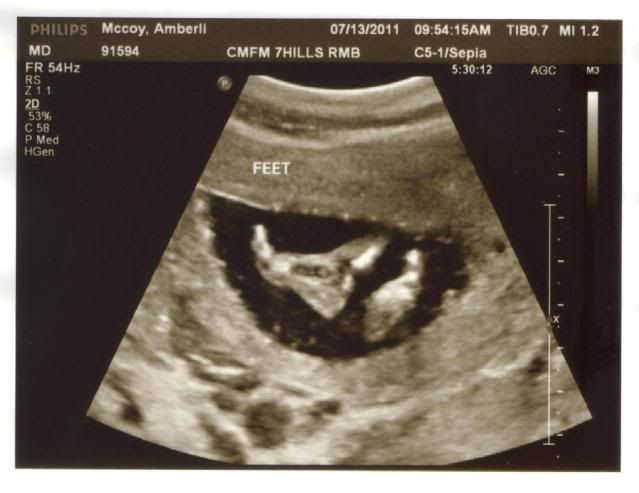 so i've noticed that although i have felt movement from this baby since about 14 weeks along the bumps and pokes haven't been as strong or as frequent as it was with the boys by this point in the pregnancy. i didn't know if i should be concerned about it and made a note to ask my doc at my next appt. then today the tech saw that my placenta is attached at the front of my uterus which means i won't feel as much movement until the baby is bigger because it's like she's kicking into a huge pillow on top of her. i was relieved to hear that this is why i haven't felt as much as i'd expected. she even let us watch as baby girl kicked her tiny foot right into my tummy (really the placenta) and i couldn't feel it at all which was strange but a relief to understand better. we are so so happy that it's a girl! can't wait to start shopping and decorating!!

the happy family of almost five!

so darek and i also had our NINTH anniversary yesterday. we haven't had a chance to go out and celebrate it yet but will hopefully make plans for this weekend. darek's parents arrived last night for a week and have graciously offered babysitting, which i've learned to never turn down. darek and i are also planning a childless weekend getaway later this summer to remember what it's like to be married to each other, and not just raising kids together!
sweet darek is a good husband and i am a lucky and blessed girl!
thank you for the happy nine years handsome hub...i love you!