so we're headed out of town tomorrow, first to utah then to idaho. my parents grew up in preston, idaho and every summer about until i was married we went to the famous preston night rodeo and carnival. preston is a happenin' place once a year and that's rodeo weekend. honestly, my best childhood memories are in preston, at the parade and carnival and playing on my grandpa's farm with my cousins. i've only taken darek to rodeo weekend once since we've been married so i'm really excited to go this year - PLUS, i am the most excited about taking my own kids. i really want them to have these kind of down-home, small-town, beef-jerky-made-from-scratch memories of their childhood too. sadly my grandma sold the roper dairy farm a few years ago so my kids won't get to climb in the haystacks and hide in the barns but they can still collect salt water taffy at the parade and moo at all the cows around town.

this particular cow belongs to the man that bought the dairy portion of the roper farm. a few months ago when i was there for my grandma's funeral (my mom's mom) we took a little drive past the old farm and when we noticed that the farmer was just getting ready to milk the cows we fully ambushed him and asked if we could walk around a little and moo at the cows, for old times sake. he thought we were crazy, but told us we could moo to our hearts content.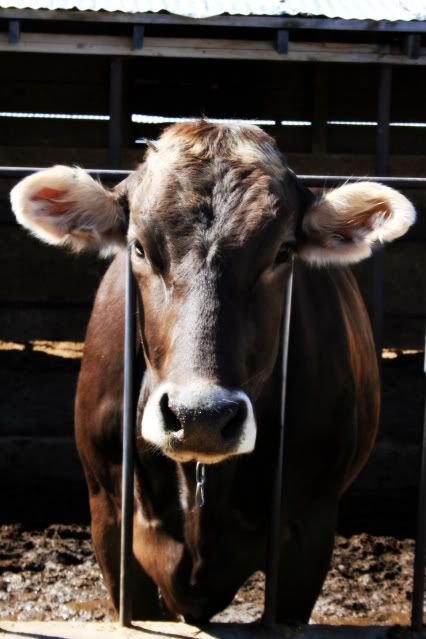 this is the roper house, although now owned by someone else. it used to be light green and had a big garden and raspberry patch behind it. we'd pick fresh raspberries then eat them with milk and sugar, delish! my dad was born and raised here, his dad was born and raised here and maybe his dad's dad too...i can't remember. in any case, lots of good memories here. there used to be a huge tree in the front, where now there's just that puny tree. i remember climbing it with my cousins and teasing the kid that lived across the street - who finally mooned us in response. touche...



we stopped to feed this little calf whilst we mooed about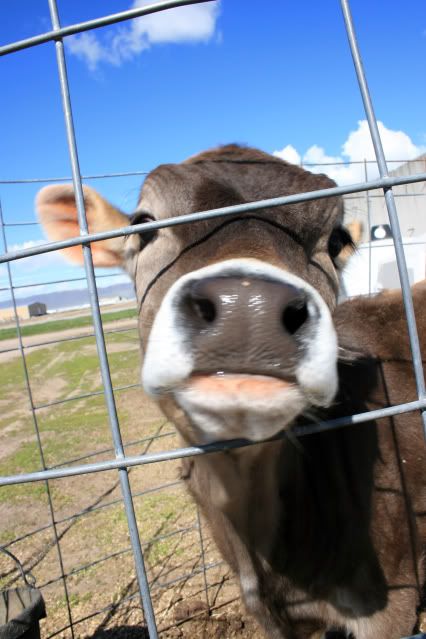 so here's the dairy, where they line up the cows and milky milk them. those poor creatures were just waiting to get milked, utters spraying everywhere...it reminded me that i'll be nursing a baby again before long...and i know how they feel. we bonded.
oh and fyi - the "ER" used to say "ROPER"


this cow cussed me out a little for getting too close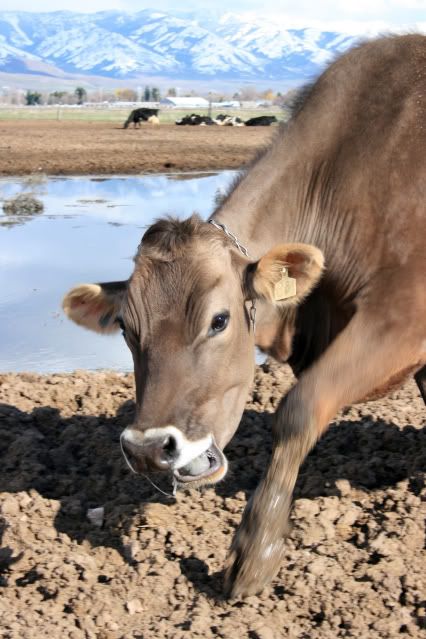 and now for a little dessert
for sure my childhood glories include these incredible cookies made by my grandma roper.
a fresh batch had just been made when we stopped by to visit her last time i was in town.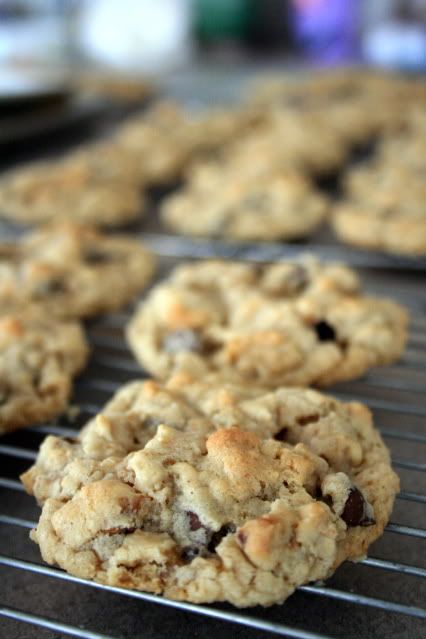 my grandma roper has enjoyed good health all the 93 years of her life, which has always been such a blessing. sadly, she has recently entered into some serious health problems and we're hoping to make it to preston in time to say goodbye before she passes. she's an incredibly faithful and obedient woman and has always been a hard worker. she served a proselyting mission for the LDS church in her 70's! i've always really admired and appreciated her and send her all my love and gratitude for her example over the years.
and finally, the best picture of all
dancing in the kitchen with grandma roper