VICTORY!!
seriously...who knew that landscaping one measly little backyard was so much work?
it took weeks...maybe months. lots of nights of darek out there shoveling until after midnight!
but alas
GRASS!!!
amen!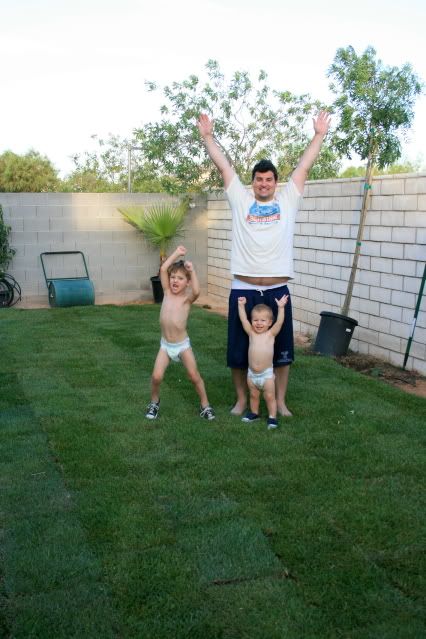 plus the cement patio extended another section in front of the backdoor
but darek rented a cement cutter and removed it piece by piece for a little more grass space
i mean this was no easy feat, peeps! what's a person gotta do for a little grass in this state?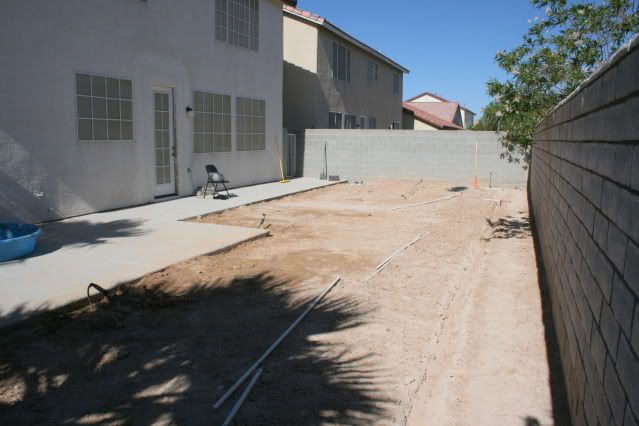 digging out rock and dirt, laying all the piping for sprinklers, laying top soil and sod...
(ps - darek didn't think one before picture was enough so he added the following)
so i've been married to the hub for nei upon nine years and i admit, i knew next to nothing of this landscaping skills. he worked as a landscaper for summer jobs but all i've ever heard him say of it was something about beauty bark...and i made fun of him for it...because i didn't really believe it was called beauty bark. but i was wrong. and he's the one laughing now because apparently he's still got some tricks up his sleeve after all these years. check it.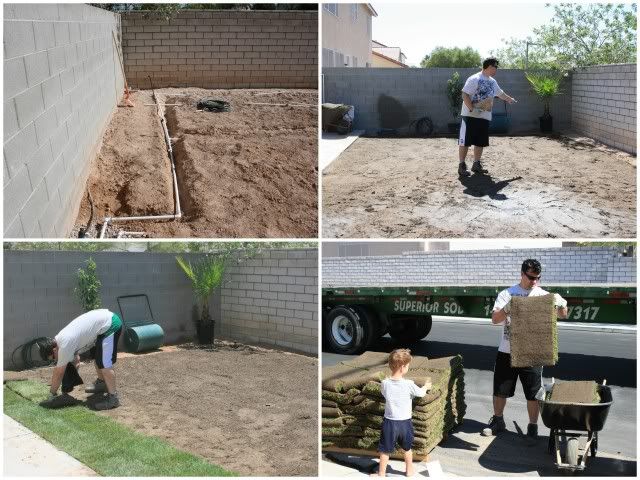 i won't dwell upon the messes and messes and messes that have entered my home and yard and life since this project began, but it mostly had to do with loads and loads of dirt and mud being trailed through my home. and we all know of my disdain for mopping...instead i just tried to keep beck from eating too much off the kitchen floor. and lots of sink baths throughout the day to manage the mess between nighttime baths.

and lots of popsicles
and green foreheads from self-inflicted smiley face stamping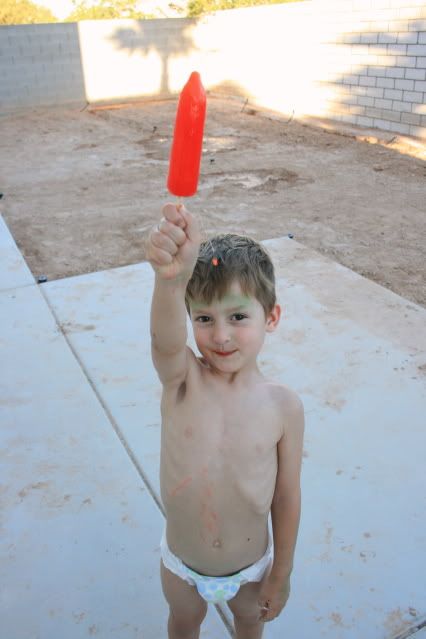 and juicy watermelon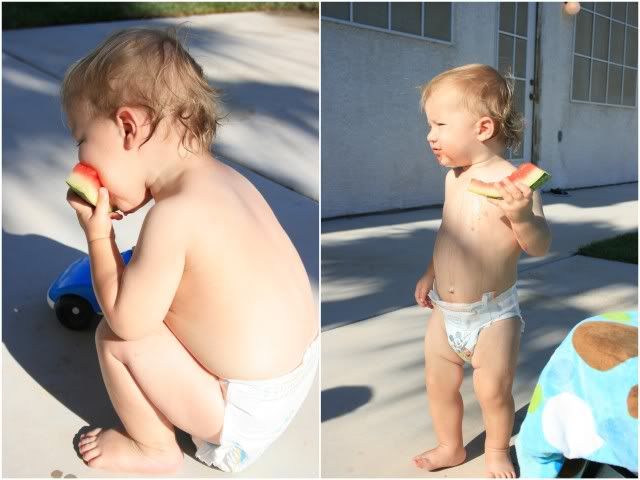 and ragamuffin boys

i was trying to get beck to reach up for my prego belly
but he just pulled down my shorts instead
and thought it was real funny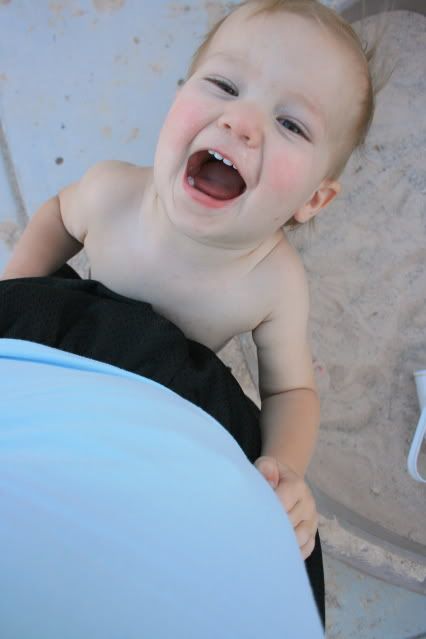 water is the key to survival here in the blazing fire of a desert that we live in
so lots of water guns in the kiddie pool
and atticus helping water the grass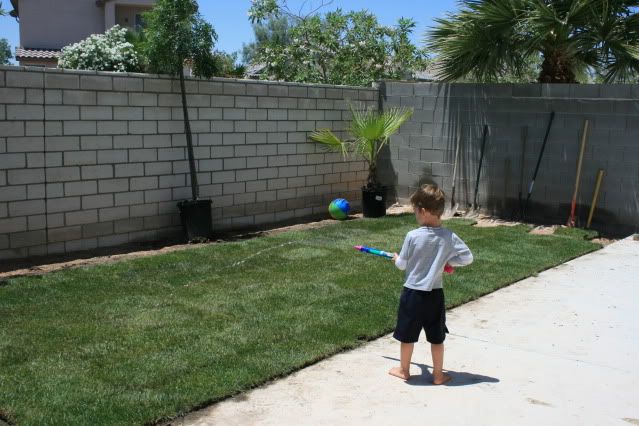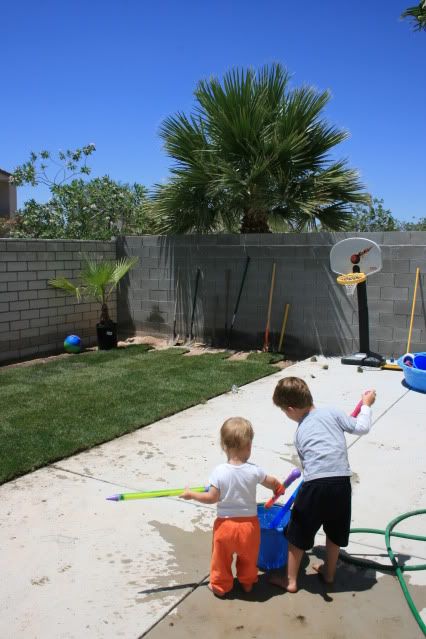 and the final outcome
although we'll eventually put in a real patio cover
and we're still adding bushes and plants around the edges of the yard
and i'll attempt a small garden at the far end where the wheel barrow currently resides
and maybe some beauty bark...just for old times sake?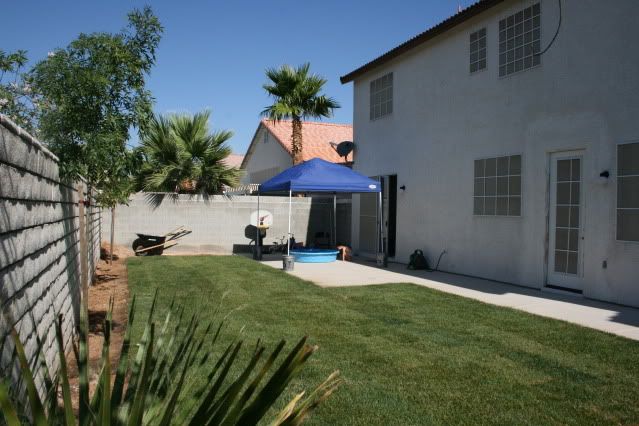 but for now...victory!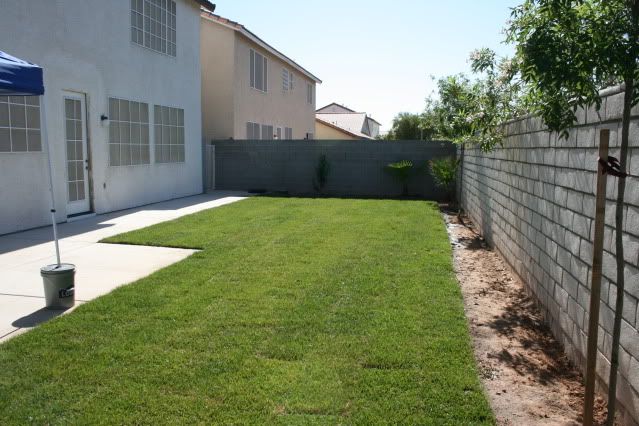 our baby palms with our baby boys
we'll see who grows faster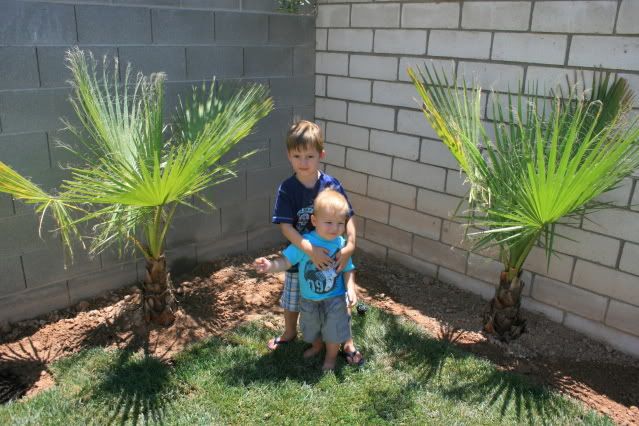 we also put in a pear tree (yum!) but the boys would hardly stand still long enough for a
palm tree picture so the pear tree picture will have to wait
so hooray for having a green backyard!! it makes an incredible difference here in the desert where green is so rare.
it also cools the backyard and especially makes dinner on the patio in the evenings heavenly.
thank you darek for all your hard work!!!!
huzzah for undercover landscapers!!!