atticus shenanigans
face coloring is alive and well at the mccoy household
atticus currently prefers his forehead for displaying artwork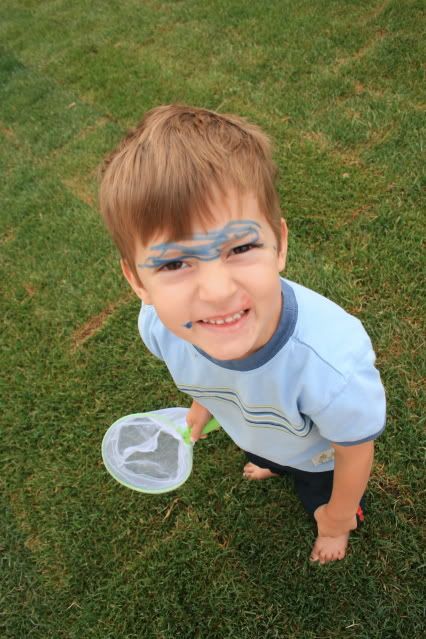 when did my three year old turn thirteen?
this is how i found him this afternoon, playing darek's PSP which he refers to as "dad's game."
let the record show that i am not a fan of atticus already playing video games, this was all darek.



atticus took up residence at the top of the stairs for a few days
moved his bedding onto the landing, even his sound machine
and played dad's game for as long as i'd allow


helping with the dishes, which is really just making a huge soapy wet mess
and apparently putting soapy bowls on his head while he's at it



this little maniac is officially in charge of putting his dishes in the sink and his sippy cup in the fridge when he's done
one night i was extra impressed that he's also put the gallon of milk back in the fridge
like this...



i found the garbage can knocked over one day, which is a common occurrence around here
but this day was special because the lid had recieved a little extra love from atticus' filthy foot



as always the kid loves himself some mess-making art projects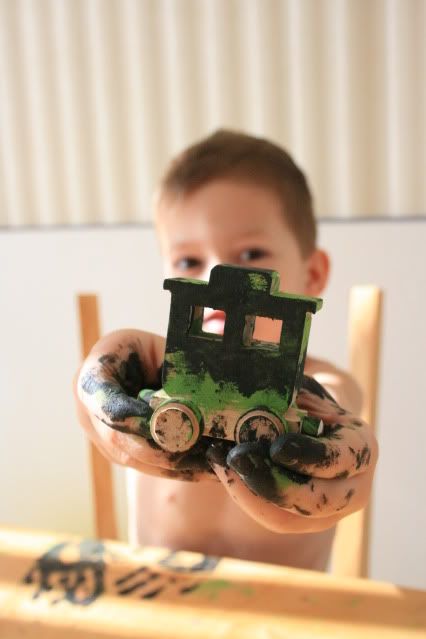 atticus just hit three and half years old
he's as crazy and fun as always. he's just started swimming lessons and even though the water is freezing and he only lasts half the lesson, so far so good. he is such a good older brother and plays with beckett all day long. he loves to play in the kiddie pool in the backyard and swim at friends' houses. he's totally into building forts and setting up his blankies, pillows and sleeping bag in special spots all around the house. his ottoman at the foot of his bed and our ottoman in the tv room are his special treasure chests that often house shoes, candy, toys and any treasures he's trying to keep secret. he's recently developed a fire engine siren sounding cry and i do everything in my power to 1) prevent it from happening, and 2) escape it when it is happening. he's getting better and better every sunday in primary while i do singing time which is mostly because i've started bribing him with treats and prizes to stay in his seat the whole time. i've never claimed to be above bribing!
he's sweet and tender and gives such passionate hugs it makes him tremble.
i love you sweet bug!