woke up under the weather, again
super beck slept through the night again, which is great
the problem is that
i
didn't sleep through the night
this, my friends, is the definition of irony
the little man crawled over to say hi this morning
while i was laying on the floor wishing i were asleep in bed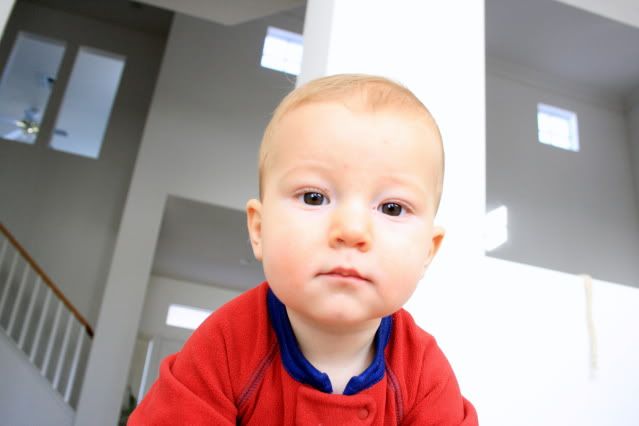 atticus and i made our super hearty, healthy pancakes for breakfast this morning.
i sort of made up the recipe, just added a bunch of super foods so that i know that atticus is at least starting his day with some good nutrition since my three year old is a self-proclaimed anti-eater. anyway, we often make a batch early in the week then heat them up during the week for breakfast. wanna try?

ok
whole wheat oatmeal pancakes
2 c whole wheat flour
1 c oats
1 mashed banana
2 eggs
1 T canola oil
2 t baking powder
1 t salt
2-3 c milk
1/4 c wheat germ
1/4 c crushed walnuts
1 T cinnamon
i soak the oats in the milk for a few minutes before adding the rest of the ingredients. i also vary the amount of milk depending on how thick/thin i want the batter. add brown sugar if it's too bland for you. i leave out the sugar because atticus usually eats his with maple syrup and peanut butter. these suckers will stick to your ribs and fill you up! perfect for a chilly winter morn!
.enjoy.
so then after breakfast atticus and i put beck down for a nap
then we
chased around the house
hide from the dragon
tip toe snuck up on the dragon with flashlights
attached a tail to my jean so atticus could pull me around
played with lots and lots of trucks
built little houses out of books
played super hero jump-flying off the couch
tickled and snuggled
until i was beat
and could finally talk him into watching curious george
which he actually called curious george instead of "ah ah" (monkey sound) for the first time
it was cute
but kind of made me sad
growing up so fast
.ta.
ps - any anti-insomnia tips you're dying to share?