a night on the town
blurry again, yes. we're starting a new trend.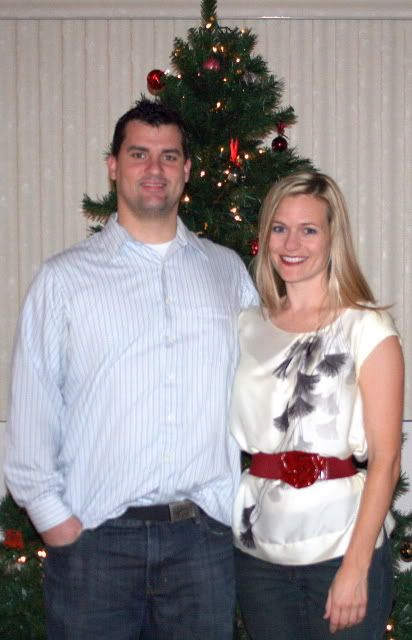 so remember how we moved to las vegas because darek got a really prestigious job as an elvis impersonator?
(and also remember how that is just a fantasy of mine and he really got a real job as in IT auditor, but sometimes he talks like elvis so i like to pretend?)
well the resort that he works for
The Cosmopolitan of Las Vegas
opens tomorrow and last weekend was their "dress rehearsal/play days." that means that all of the employees and spouses get to go try everything out for free so all of the servers, dealers, bellhops, etc. etc. can practice and get ready for opening. so anyway, we got to go saturday night. it was incredible. the cosmopolitan is really gorgeous inside and totally unique and different than anything else on the strip. i couldn't take any pics so you'll just have to come see for yourself. if you haven't seen their commercial check it out
HERE
. it seems a little risque but it's actually a really classy joint. i mean how risque can you really be with puppies and bunnies and bambi roaming about?
we ate dinner at Scarpetta which was some of the most incredible italian food i've ever eaten. and that wasn't even the best part, the best part (besides it being free, of course) was our waiter, giorgio, straight out of tuscany. he was hilarious and charming and so good at his job. he straight up read my mind about what i wanted to order. i thought he was teasing me and he had overheard me tell darek but nope, he's just that good. after that we let him orchestrate the whole meal. appetizers, meals, desserts, all put together by good old giorgio and all were fantastic! plus he was so very italian i just wanted bacio (kiss) his italian cheeks!
after dinner we checked out the rest of the hotel, pool deck, dance club, etc. it was all beautiful. sadly the tables were closed by the time we wanted to play so no fake gambling for us. oh well. probably better this way since i've been a little fanatic at fake gambling parties in the past...addicting...
the dance club was pretty cool and it was fun to dance for a bit but honestly i couldn't handle all the almost-nudie girls walking around. these poor girls, serving drinks and gogo dancing in lingerie. i felt so sad for them. put some clothes on ladies, and have a little self-respect. i was looking at them thinking, "oh, those poor girls forgot to put their clothes on before they left the house." and i'm sure they were looking at me thinking, "oh, that poor girl forgot to take her clothes off before she left the house." needless to say we were hopelessly out of place but i'm cool with that. it's probably better that way. anyway, lots of fun. good luck cosmo. hope you're a success!