enjoying the holiday season
~
*
~
what do you do to enjoy the holiday season?
in the weeks leading up to christmas darek often says, " i wish tomorrow were christmas" but not me. i like it best when christmas is still a week or two away so we can do lots of holiday activities that make the season feel more festive. i love to shop and decorate and make seasonal foods and go out and about seeing the sights and lights and all that holiday-y type stuff. we don't really like wassail but i made some last year just so the house would smell like it. today i'm thinking of simmering some cinnamon sticks on the stove for the same reason. while the boys napped yesterday i wrapped gifts and listened to christmas music and i've been working on christmas cards today. i want to start putting the gifts under the tree but atticus unwraps anything within a five foot radius of his little hands if he thinks it might possibly contain a present inside. i also tape up all the holiday cards/pictures we get in the mail so i can admire your pretty faces all season long and remember how blessed we are with wonderful family and friends. speaking of family and friends, we threw together a couple little holiday gatherings last weekend and also went to bass pro shop yesterday with some friends to see santa and hang out.
the yankee swap
we had some friends over for a yankee swap last saturday. each family brought a soup to share for a yummy potluck dinner. it was perfect and easy to throw together and we're so happy our friends came to celebrate the holiday season with us. i must say here too that making friends is really what makes a new place start to feel like home. i've said all along that i like living in las vegas but wasn't totally in love with it...but i'm starting to fall in love. it's amazing what a difference good friends make. thanks friends for making the difference.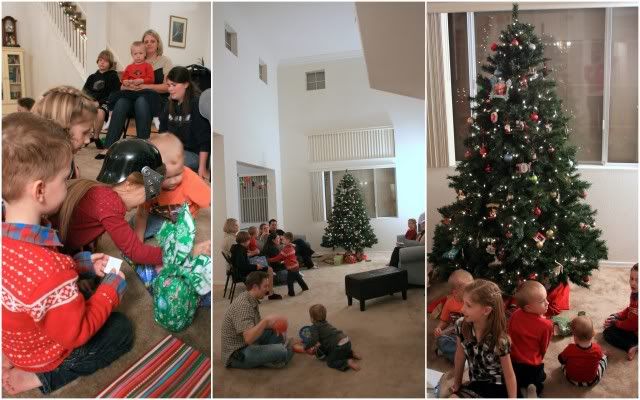 making gingerbread houses
a messy and fun affair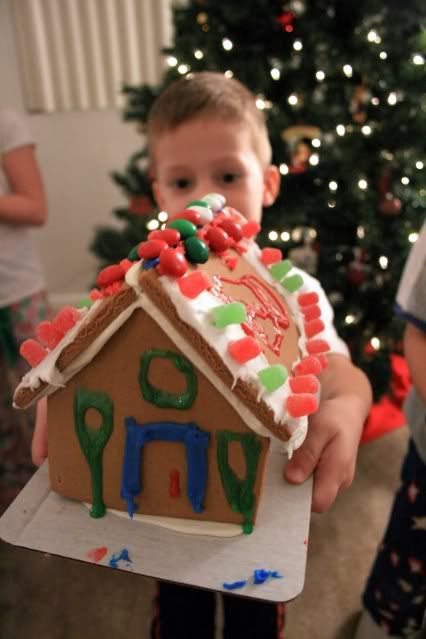 we had "the guys" over sunday evening to make gingerbread houses. as you can imagine atticus was so excited he talked about the guys coming over all week long and could barely fall asleep the night before. the first words out of his mouth sunday morning were, "mom! the guys are coming!" we hung out, eating treats and chatting while the kids ran around playing like maniacs. we are so blessed to live near brandon and cori's family. we've never really lived near family once our p-town days came to an end and we wish we had all the mccoys and ropers within a let's-have-sunday-dinner-together distance. thank you guys for coming to play!
and thank you also for the sneaky present you left under the tree. as before mentioned, that surprise present has atticus' unwrapping fingers burning! sunday night i was finishing things up on the computer and heard atticus sneaking down the stairs long after he had gone to bed! when i popped out and surprised the little sneak he innocently explained to me, "mom, there's a pink present under the tree!" surely he was wondering how we'd ever make it through the night without first opening the pink present! finally he went back to bed but first thing monday morning he made a mad dash for the tree. needless to say, the present has since been removed to a more secure location.
the guys and their gingerbread houses
(ps - not sure where canon was when we took this?)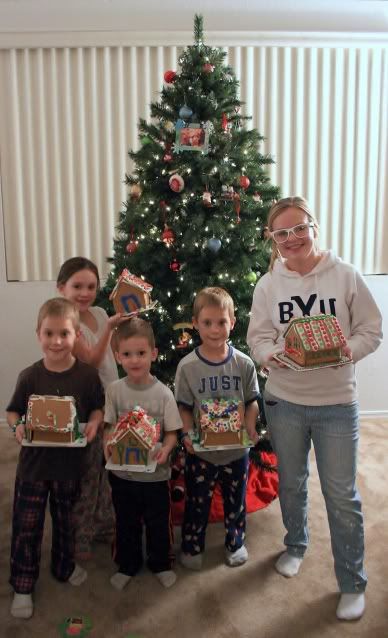 bass pro shop
yesterday we spent the morning with friends at bass pro shop at the silverton casino. they've got it all holiday-decked out. plus it's just a cool place for kids to go play in general. there are toys, guns, lots of crazy taxidermied animals to admire, live ducks, a fish aquarium and at christmas time - santa! the boys pulled their classic santa survival tactics. atticus: no eye contact. beck: stare in wonder and perhaps a titch of fear. however, beck refrained from the tear fest of yester week when he last encountered the jolly fellow so i consider this a success.
atticus wouldn't tell santa what he wanted so i had to prompt him a bit. at best we got a barely audible whisper of a response out of him but that didn't stop him from happily accepting the candy cane from good old santa after the sitting-on-his-lap torture was done.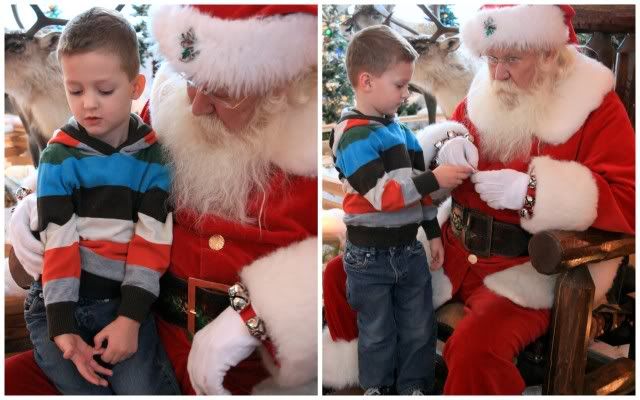 atticus pretending to be ralphie pretending to be black bart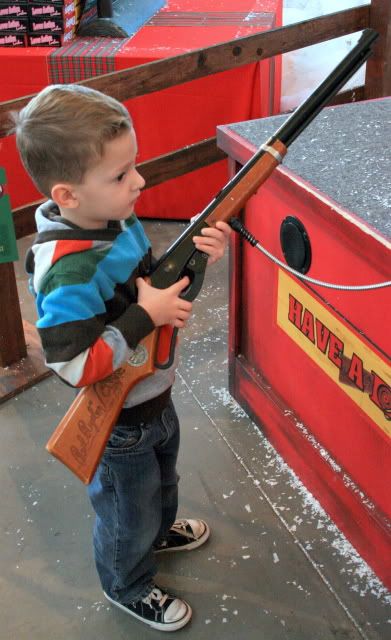 and beck wanting in on the gun action
climbing on the four wheelers
driving the electric train and race cars
sitting in santa's sleigh with his little buddy
as always, giving me his classic "smile" (aka - tongue sticking out)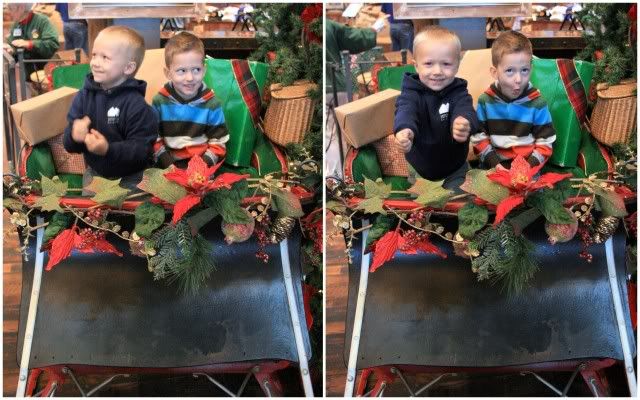 these boys were so funny watching the fish
they would get really close then shriek when the fish approached them
lastly, a little house decor
my mom always really decked out our house at the holiday time. i loved it. it always made the house feel so magical and transformed from everyday life. something i've noticed this season, now that we have two kids, one of which is old enough to really enjoy christmas, is that it's my turn to make the holidays magical for my family. i have sweet and tender memories of the holidays growing up and i feel a responsibility to create the same kind of sweet and tender memories for my children to cherish when they grow up. so as hectic as this season often becomes i really want to go out of my way to enjoy every minute of it and especially make it fun for those around me.
my mom always made our banisters so pretty for christmas.
this is my sad attempt - it will get better as the years go by.
the banister on the staircase is prettier then what is shown here. i'll have to take close ups of it.
and i used
THIS tutorial
to make the 3d snowflakes hanging in the little window cut outs looking into our playroom on the far wall in this photo. they are easy to make and look so pretty. give it a try.
so that's it for this marathon post.
any suggestions on how to make the holiday season merry and bright?