so this post is just going to be a whole lot of random
welcome to my disorganization
first things first
i'm sure i've posted this deliciousness before
but lest you didn't take me seriously the first time
here it is again
melting pot stew
(alla amy d.)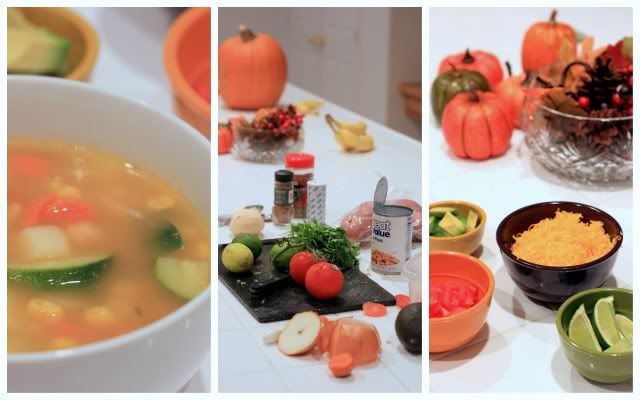 6 c. chicken broth
1 c. chopped onion
1 minced garlic clove
1 1/3 c. cubed baking potatoes
1 can garbanzo beans, drained and rinsed
1 chopped carrot
2 c. corn (fresh or frozen)
1 zucchini quartered and sliced
1 c. diced tomato, plus extra for topping
1/2 t. dried oregano
1/2 t. ground cumin
1/3 c. fresh cilantro
3/4 t. salt
toppings:
fresh squeezed lime (this is key!)
cheese, fresh tomato, sour cream, avocado
boil broth, cook all veggies (minus zucchini) until soft, about 15 minutes.
add spices, simmer additional 15 minutes.
add zucchini when there are 10 minutes left
add toppings
eat
and be happy
...
moving on
...
~

pumpkins
~
atticus was in heaven with the whole pumpkin business
mostly because he liked scribbling on them with permanent marker
which he then used to scribble on our back patio
grrr!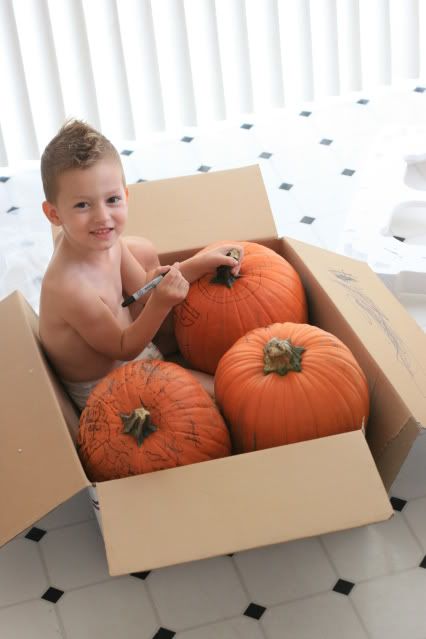 darek was so excited to carve the pumpkins with atticus
but atticus took one look inside at all the pumpkin guts and said
YUCK!
so dark did the digging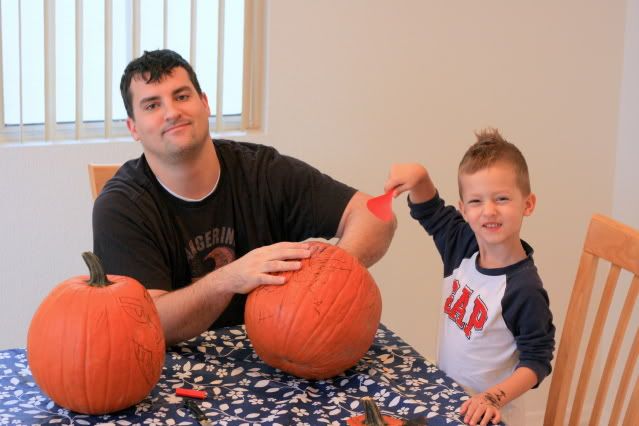 and i did the pumpkin guts eating
which i'm posting here
because you know how it's uber cool to post lame pictures of yourself on your blog?
i know, i know...i need to get my roots done. same old story.


house news
darek started digging up the backyard in preparation for some grassy and planty business
this is all very exciting
and atticus can't resist the please-make-me-dirty piles of dirt
also same old story
even in his pajamas and bare feet, because i'm a real good mom like that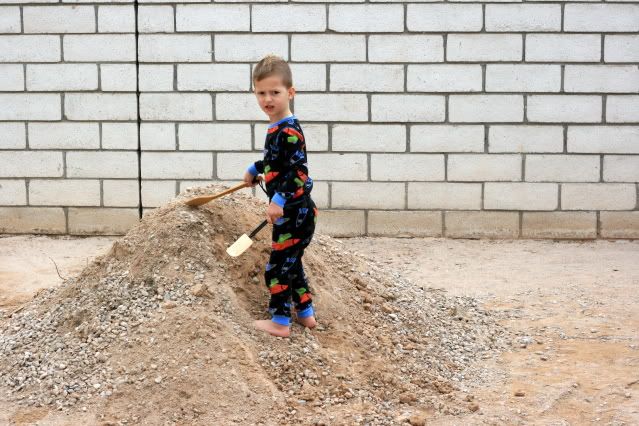 movie news
we saw
the social network
this weekend. it's about the jerk that stole/created facebook. i call him a jerk but he's the billionaire laughing all the way to the bank. anyway, we wanted to see it since it takes place in cambridge. it was really good, well done, interesting, yadda, yadda, yadda.
last night, in honor of the approaching all hallow's eve, we watched the all time epic movie -
pet sematary
. that's right. bring on the childhood flashbacks of zelda and her spiney back! nasty! FYI - this movie, albeit pretty lame, takes on a whole new meaning as a parent.
poor gage...so cute yet so evil.
darek got some free tickets to see some nicholas cage movie this week
so here we are faced with a decision of momentous importance
is a nicholas cage movie worth getting a babysitter for?
i'm thinking not
in my opinion the guy peaked with raising arizona,
which i'm not ashamed to admit was sheer brilliance
i'm thinking darek will be going solo to visit old nicky this week
book review
i finished
the book thief
brilliant
sad
so well written and so interesting from the viewpoint of death
(not as gory as that sounds)
and i'm not claiming to be some kind of expert on imagery usage but
the author's use of imagery is exceptional
boot camp update
people have been asking how boot camp went
it was incredible! super hardcore. not easy.
but
the results were pretty amazing
i highly recommend it for anyone looking to get into shape quickly
it's too pricey to continue tho so i joined las vegas athletic club
and i must say that dropping my kids off at their awesome playroom while i work out
has liberated me in ways i never dreamed possible
hm, well i have other random things to discuss but honestly who has time to read them all?
so thanks for reading
.ta.