mother's day
was lovely
~
i hope it was great for all of you as well
may your children be angels
and your husbands be generous
~
a few mommy moments of late:
.
yesterday we found the fingernail clippers in the toilet
.
we've been bungee cording atticus' door shut to encourage staying in bed
(fyi - works like a charm)
.
i've scrubbed the kitchen floor twice in the last 24 hours - not because i'm a diligent housekeeper
but because atticus keeps squeezing dish soap all over the floor
.
i wept through the children's primary program yesterday - and atticus wasn't even in it
.
i also attended no other church meetings yesterday because i was in nursery helping atticus be happy
.
my normally champion sleeper beckett was up at 3, 5, and 6 this morning
(his tummy doesn't like my mother's day chocolate)
.
i sang dora the explorer songs in my head all night long
.
i took two bites of my apple this morning before atticus confiscated it as his own
.
several times a day atticus recounts to me the story of when his thumb got bit by an ant last week
.
atticus just came in the room yelling, "mom! wet!" and had me take off his wet clothes (from playing in the sink) but ran away when i told him was also going to change his wet diaper
.
the whole bathroom is also wet, including the towels
.
so. much. laundry.
.
it was real hard to get happy pictures of both boys - which is all i wanted for mother's day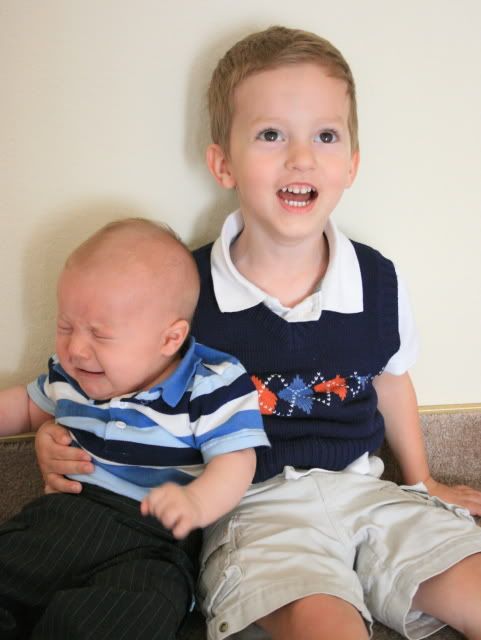 nothing brings me more happiness then being a wife and a mother
thank you husband for making me feel beautiful
thank you children for blessing my life with joy
...
i love you three boys!
...
and happy mother's day to my mother too
who is very much the kind of mom i'm trying to be!
i love you!