our's was a

no nap
poop on the floor
and step in it
kind of day!
how was yours?
side note: i did not take a picture of the poop-on-the-floor event (your welcome) and i've always hated saying the word poop and never really did say the word poop until i became a mom, at which point not only does it become necessary to always say the word poop but it absolutely becomes a part of your everyday vocabulary as well as most of your daily conversations. poop.
but i digress
today was a little hectic - but i'm not complaining. we had a glorious four day weekend with darek around after his long busy late night work week last week, so it was great. we spent friday hanging out in JP, going to parks and on walks and whatnot. we checked out the community center and decided to join for this winter so we can go to play groups and play basketball and run on their little mini track and use their gym and swim in their pool, so that will also be great. and i love that we're joining the community center, feels so small townish!
saturday we tried to make it up to maine to meet friends but alas the traffic was awful and atticus was over the car seat business, so we just took the next exit and ended up at newburyport! beautiful! LOVED it! it felt like laguna beach but all new englandy and old school and quaint and lovely. we spent a few hours at plum island beach and then shopped around their cute little downtown. could someone please buy me a beach house there please? i'd let you come visit if you did.
so we played lots in the water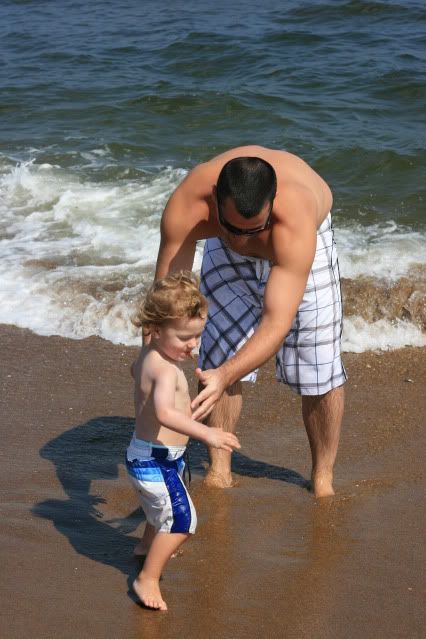 and dug for shells in the sand
and ate sand

and crab crawled up the shore

and noticed my almost four month belly protruding out
(another side note: i wake up in the morning with nothing more then an itsy bitsy barely there baby bump but by the time i go to bed at night i've got me a full blown big old baby belly, complete with all manner of stretching and hurting ligaments. what?)
so anywho, then we spent today running errands and cleaning up the aforementioned poop-on-the-floor. we meant to go to the beach or something but we just couldn't get around to doing much today besides playing in the backyard kiddie pool and making delicious peach muffins.
perhaps i'll include the recipe for you here since i'm sure you're now craving delicious peach muffins.
~
1 1/2 c flour
1/2 t baking soda
1/2 c oil
3/4 c sugar
1 t cinnamon
1/2 t vanilla
3/4 t salt
2 eggs
1 can (15 oz) peaches
drained and diced
(or two fresh peaches or nectarines, chopped)
~
crumb topping:
mix a little oatmeal, cinnamon, butter and flour
~
combine dry ingredients in first bowl, wet ingredient (minus peaches) in second bowl, add wet to dry, it will make a thick batter. fold in peaches, sprinkle with topping. bake at 350 degrees for 25 minutes
yield: 1 dozen

we hope you had a magical and lovely labor day weekend

.ta.